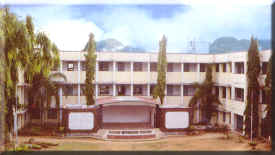 Site Information
It is high time we need some pictures on this site, c'mon guys send them over in any electronic format.

This site is in need of NIE student and alumnus volunteers - suggestions are welcome.
Don't feel like --- 'Why should I be the one ?'.
If you could study in NIE, you surely can contribute to this site. Anything is welcome.
Please send facts and pictures. Pictures can be digitized files, photocopies or actual photographs.
We promise to return all material ( Well, not the digitized files, that would be silly! ).
This site may undergo periods of maintenance, and neglect but DO keep coming back.
If you need to email us, please feel free to do so at niemys@hotmail.com



This site has been built to give NIE a presence on the Web. We would still call it UNOFFICIAL , lest we get tangled in copyright © & other ™ hassels . The first steps in this direction were taken a while back, with the posting of a Bulletin board article, requesting help & suggestions for this effort. There was only one response to that message.This has prompted us to start the process & do some basic things like setting up the site. We would like suggestions for this effort & any help or material, regarding the history ( The facts only please, We could tell you a lot of history, but that may not be really backed by some proof ! ).
You could send HTML pages or simple text with all the details that you think should be put on the site. ( We really prefer cut&paste to typing ). If they are worth putting up here, they will be put up here.
Also, if there are plans of a BIG NIE site coming up somewhere, please go ahead, as this is just a small step towards it. ( We have to start somewhere, don't we ? ).
The details on this site are very minor, we've got tons of stuff to put up here.
So get movin' guys & send in the material.